Michael van Gerwen produced a brilliant fightback to clinch his first PDC major title with a fantastic victory over Mervyn King in the final of the World Grand Prix in Dublin on Sunday.
The Dutchman, who has won four Pro Tour titles this year, trailed 'The King' by four sets to one, before storming back to win five on the spin to take the £100,000 crown.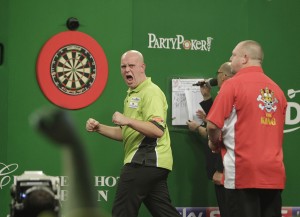 "This is the best day of my life," said 'Mighty Mike', whose triumph sees him leap 17 places up the PDC order of merit to eighth.
"To win this tournament is an amazing achievement for me, but to do it in a game like that makes it even more special.
"Mervyn is a fantastic player and he made it really hard for me but even at four one down, I knew I could go on a run.
"That's exactly what happened and I was over the moon when that last dart went in.
"No match is ever over until the last double is hit and I have lived by that all week. I'm so proud and so happy to win this tournament."
van Gerwen looked to have got in to his stride straight away, scoring 170 to set up double eight to take the opening leg.
But King took three legs in a row to win the first set.
King held his throw in the first leg of the second set before van Gerwen's second 180 helped him draw level.
The former Premier League star reeled off the next two legs though, opening up a two set cushion.
King moved two legs clear in set three, with fine finishes of 102 and 93, but 'Mighty Mike' hit back by hitting double 16, after setting it up with 159.
It didn't prevent King from taking a third consecutive set however, as he produced a brilliant 152 checkout to get half way to the finishing line.
van Gerwen managed to break his opponent's throw for the first time in the opening leg of the fourth set, before doubling his lead on double eight.
The Dutchman then slotted in a fourth 180 but King took out 120 to keep the set alive.
'Mighty Mike' did the same in terms of the match, hitting double eight to reduce King's set lead to three one.
The 23-year-old quickly took the first two legs in the fifth set, posting double top on both occasions.
But he missed three darts for the set, allowing 'The King' to force a deciding leg.
It looked like it would be a pivotal one when van Gerwen missed three darts at double eight, leaving King to clean up 48 to restore a three set lead.
The Dutch star took out 75 to break King's throw, before holding with a neat 87 finish.
He completed a clean sweep, hitting double tops after a 160 start, to reduce his opponent's lead to 4-2.
van Gerwen moved ahead in the seventh set, winning a leg that included a bull, bull, 25 party piece before bedding double top.
He then took out 92 for a break of throw before truly announcing his presence in the final with a brilliant 131 checkout to close the gap to a single set.
'Mighty Mike' took a seventh leg on the spin and missed eight darts to make it eight in a row.
King stopped the rot by hitting double 16 but a third consecutive break of throw took van Gerwen a leg away from levelling up the match.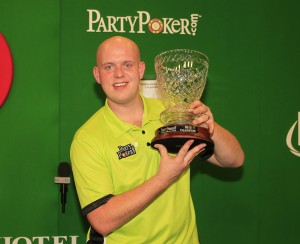 And he did exactly that, hitting double twelve to effectively make it a race to two sets for the £100,000 title.
'The King' hit double four to break and edge back in front, before moving two legs ahead in the ninth set, in a leg where both players hit 180s, which King followed up with a 117 checkout.
'Mighty Mike' bedded double eight to stay in the set and then hit double twelve to level it.
The young Dutch sensation then hit tops to take the lead for the first time since the very first leg of the match, moving a set away from victory in the process.
He broke King's throw in the first leg of the tenth set before a fine 79 finish put him within a leg of victory.
Ever the showman, van Gerwen became champion in style, saving his highest finish of the match, a sensational 145 checkout, for the final leg.
The Dutch star, who is now the highest ranked player from his homeland after leapfrogging Raymond van Barneveld, will now turn his attentions to next month's Grand Slam of Darts and the World Championships in December.
He added: "At the start of this year I was ranked 38th in the world. Now I am eighth and that is a dream for me.
"Raymond is a fantastic player so to go above him really is something special and I'm proud of it.
"Now I know how to win a major like this, I know I can win anything and I'm looking forward to going into the Grand Slam full of confidence and I'll take it from there.
"Today is about winning my first PDC major. When I won the World Masters in the BDO that was a brilliant achievement but this really is the best day of my life."
By Chris Murphy
***SPECIAL OFFER – Silver tickets for The Untouchables, Eastbourne on Friday 19 October are TWO FOR THE PRICE OF ONE – Click here for more details***
Image courtesy of Lawrence Lustig/PDC